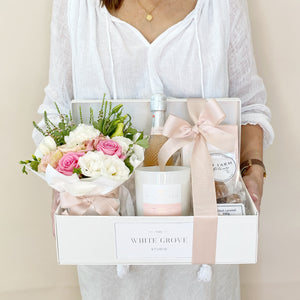 Gift hamper contains
  Small fresh flower arrangement in pink and white
  Mini Freixenet Rose
  White Rose and Jasmine Candle
  Salted Caramels
  Gold Heart Gift Tag
Please note: arrangement shown is an indication only of flowers and colour available. Each arrangment is individually made. 
Items containing fresh flowers can not be posted. This gift hamper is available for in store pick up or local flower delivery only. 
It is against the law for White Grove House or you to sell or supply liquor to, or obtain liquor on behalf of, a person under the age of 18 years. In placing the Order, you warrant to White Grove House that:
a. You are over the age of 18 years and will produce evidence of age to the satisfaction of White Grove House when requested at the time of delivery,
b. Any person that you are obtaining the Goods for, or supply the Goods to, is over the age of 18 years, and
c. You will not take or supply any part of your Order to any liquor-restricted area or community.