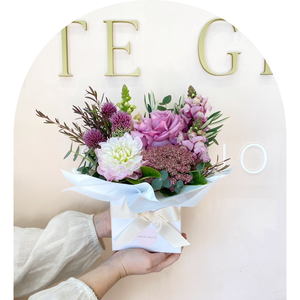 This arrangement has been photographed at the $79.99 price point. Please note that the $99.99 and $129.99 box arrangements will be larger in size.
For a simplistic choice this beautiful blend of lilac tones is soft, feminine and reminiscent of a cottage garden
Delivery Times
11:00am cut off for same day delivery
2.00pm cut off for same day instore pick up on business days
10.00am cut off for Saturday delivery. Unfortunately we do not offer delivery on Sunday
Please note, every effort will be taken to ensure the item you have selected is similar to what is pictured. However, sometimes there is no helping Mother Nature and some flowers may not be readily available. In this case, we will substitute flowers, keeping the integrity of the design. One of our friendly team will contact you if the selection is too different or unavailable.